Please note that the paintings below vary considerably in size. If you wish to purchase an artwork, email derek@deejart.com to make enquiries about the size, price and delivery of the artwork.
THE BOSCH SUITE
The Bosch Suite is comprised of 11 paintings in which Derek Kosbab has selected from the 25 known works of Hieronymus Bosch various humans, animals, monsters, and make-believe creatures and has recombined them into entirely new works of art.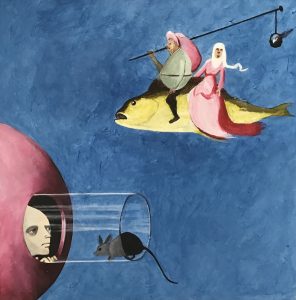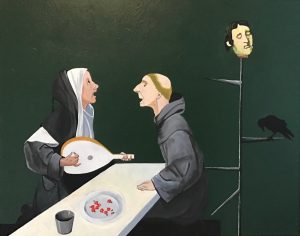 HIERONYMUS BOSCH
Born: circa. 1450   Died: August 9, 1516
Dutch painter and draughtsman
It is quite a feat that a Dutchman who painted 500 years ago remains one of the most notable apocalyptic painters of the world and one of art's first visionary geniuses and surrealist. There are only 25 surviving works that historians attribute to the master.
Hieronymus Bosch is most celebrated for his detail-drenched and symbolic narrative renditions of the dance between heaven and hell through biblical-themed landscapes upon which play a revolving cast of fantastical, and often macabre humans, animals, monsters, and make-believe creatures.
His paintings demonstrate our age-old tales of morality and the eventual fate of all sinners who succumb to the pleasures and perversity of the ego. These timeless stories, masterfully portrayed upon canvas in Bosch's impeccably steady hand, continue to challenge interpretation as well as position the artist as one of the canon's first original thinkers. 
Bosch was the first artist to visually express beings and realms unbeknownst to human comprehension thus the term surrealist. Profuse imageries of hell as metaphor of our greatest fears and deepest desires and his endeavour in bringing the interior life and its unconscious machinations out of the mind's dark recesses and onto the canvas are a bold departure from depicting mere reality.