ENHANCE YOUR HOME OR BUSINESS WITH AN ARTWORK PURCHASE OR COMMISSION
BELOW IS THE EASY THREE-STEP METHOD TO PURCHASE OR COMMISSION AN ARTWORK
1. email me using the CONTACT DEEJ PAGE on this website
2. in the email, explain the particular artwork that you would like to purchase after viewing it on the website, or what type of artwork you would like to commission, such as an acrylic painting or a work on paper. Provide  your specification requirements, such as:  approximate size, colours, theme (landscape, portrait of a loved family member or pet, still-life, famous artwork). If it's a family member or pet, attach several photographs.
3. provide your personal details such as your name, address, country time-zone and best contact telephone/mobile number. I will call you so that we can agree on your investment, payment and shipping method and delivery date.
Below are three examples of previously commissioned work, the time involved and the investment: A family wanted to own a Picasso; but, unable to afford an original Picasso, they commissioned me to paint a copy of Jacqueline Aux Fleurs approximately the size of the original. The finished painting was 70cm x 70cm, took three weeks and their investment was AUD$450: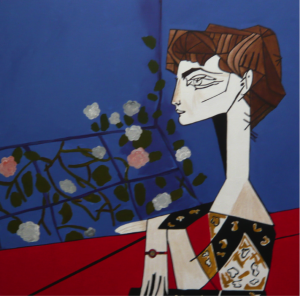 A lady specified that she wanted an acrylic artwork 1 metre x 3 metres to be hung horizontally over her fireplace. She specified that she wanted something colourful and left the subject matter to me. Below is the imaginary woodland glade artwork that took 30 days for AUD$450. She was thrilled with her investment.
As a 50th birthday present for her mother, a friend commissioned a portrait of her mother's much-loved pet dog: Lady. Working from a photograph I painted the 40cm x 50cm portrait in 30 days. The investment AUD $150.